Google Developer Days was held for the first time in India. It was also my first ever event/conference.

Event Management
Kudos to a very well managed event. Shuttles for pickups and drops, huge rooms for talks, ample comfortable seating areas with beanbags, wonderful catering.. it was extremely well thought-out. The Google staff was courteous and extremely helpful throughout the 2 days. Entire event was very smooth and yet highly energetic, despite being attended by probably a 1000 developers.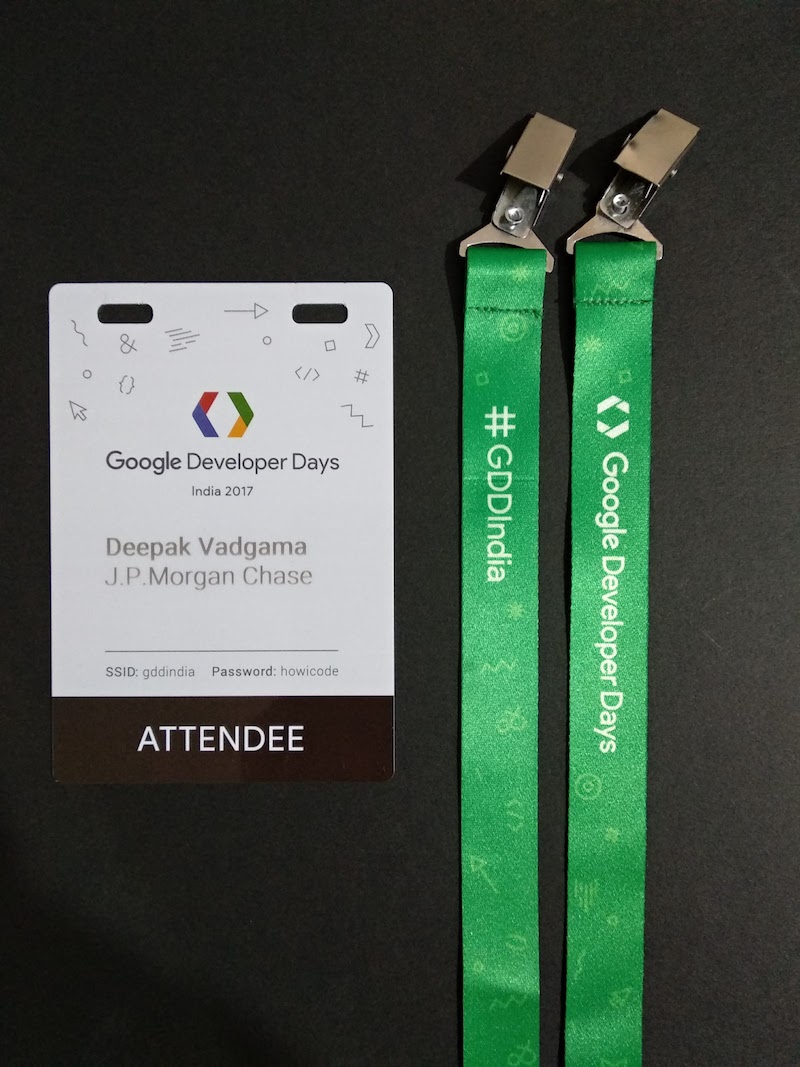 Talks
There were 3 tracks for talks and trainings over 2 days
Here are the ones I attended
Many of the talks were live streamed and are available to watch on Google Developers India Youtube channel
I missed a few which I was looking forward to:
Cloud Functions
Design thinking workshop by Stanford
Hands-on with the Google Cloud Vision and Natural Language APIs
Training
I could only attend one training - 'Build a Web App with Firebase and Cloud Firestore' led by Arthur Thompson. We live-coded a Restaurant listing web-app.
Sandboxes
This was one of the more popular areas of the conference. Lot of small booths showcasing Google's products.
Here I got to know about Lighthouse an Google Chrome extension which provides feedback on the websites.
Saw couple of cool demos made with Android things
Gave feedback to Firebase team about incremental commit-sync for static hosting
Saw GCP's Video Intelligence API demos. Was awesome.
Pluralsight promotion (offered 2 months free subscription for those who complete a small Android IQ test)
Codelabs
There was a dedicated section with workstations to try out all the code-labs available for Google platforms. Googlers were available to help resolve any issues. I wish I had done couple of them at the event. Well, maybe next time.
Community Lounge
Lot of lightning-talks were held at the community lounge randing from 'Solve for India' to 'Networking Skills'. There was also a dedicated track for 'Mobile and Web Design'.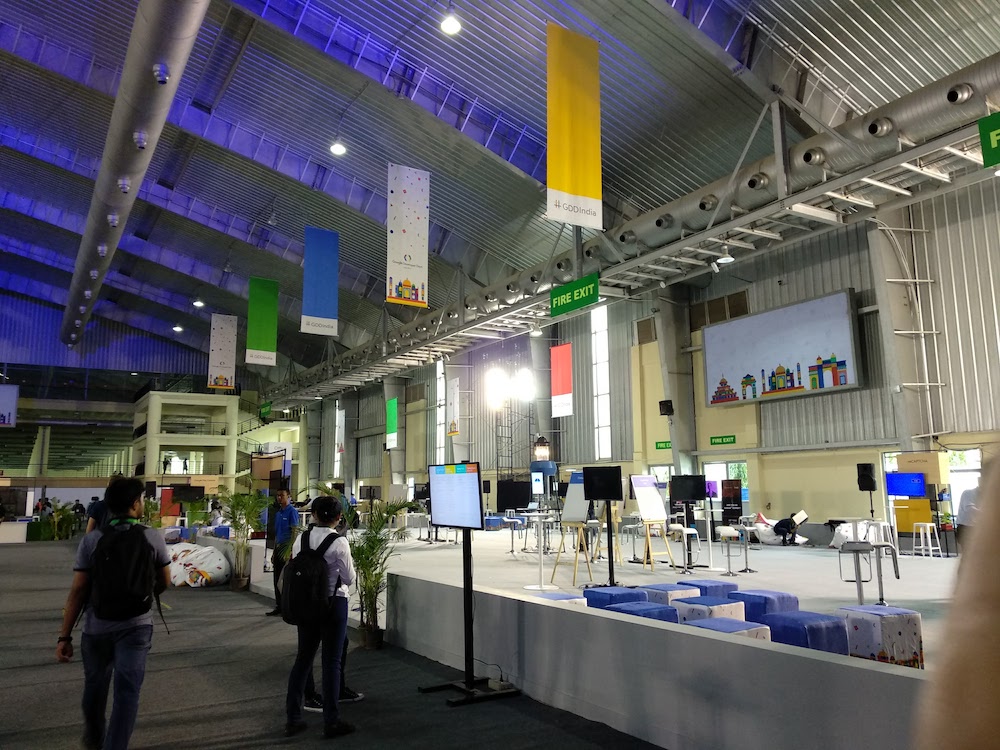 Swag
Every developer at the event got an Android Things Pico pro maker kit. Can't wait to get hacking away at this.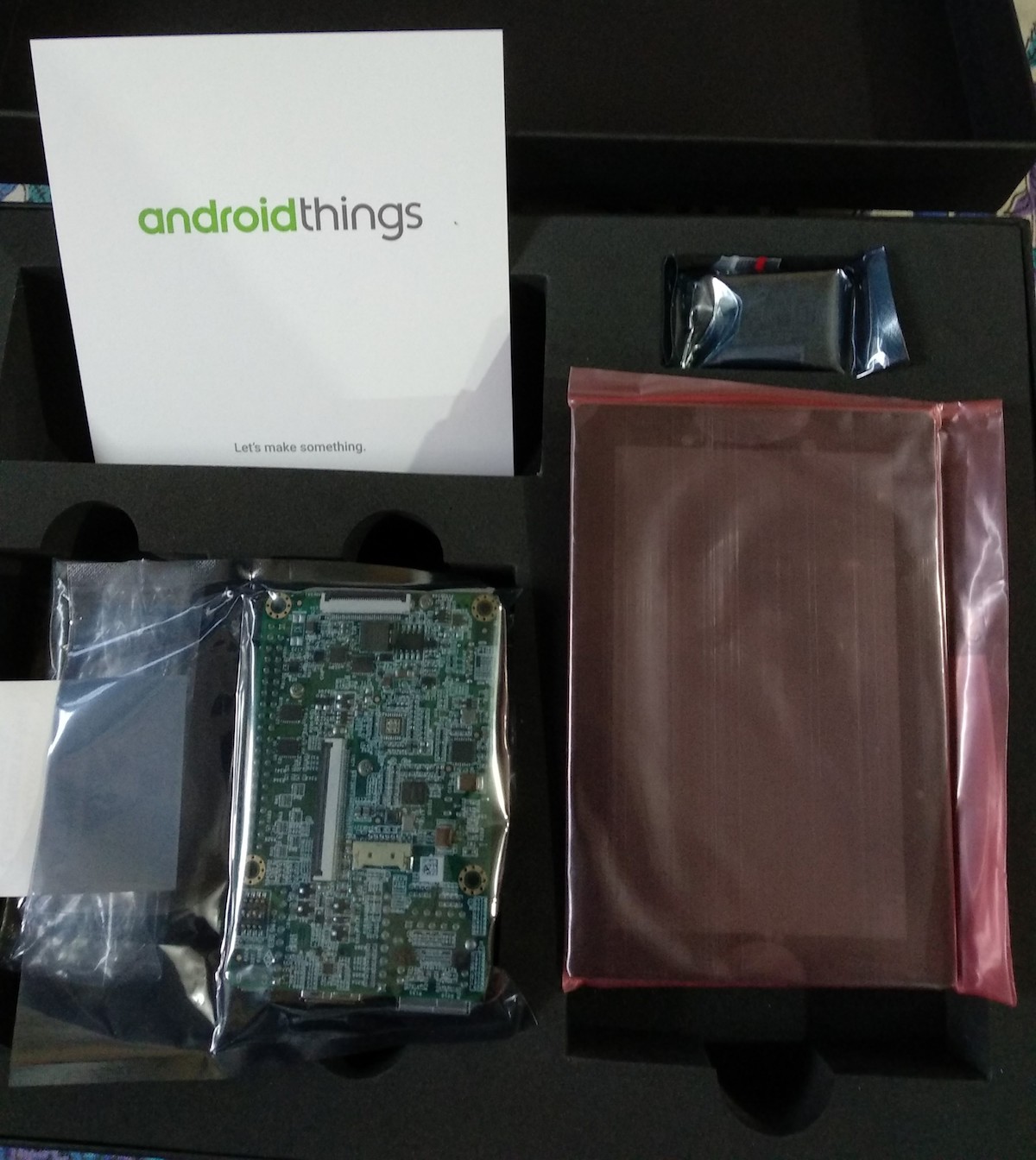 Feedback
Great Google/event staff. Everyone was courteous and extremely helpful. Zero hiccups. keep going!
Talks by Jenny Gove and Eric Bildeman were perfect templates. Lot of in-depth technical details, examples and stats. I wish more talks were like these.
Some talks should have been split between beginners and advanced. For example: talk about Kubernetes was neither a good introduction nor in-depth architecture overview. No qualms against the host though, as 30 minutes is too short for a Kubernetes scale subject.
Get view of attendance's interest beforehand with a online poll and assign rooms accordingly.
Conclusion
Overall it was a wonderful event! Well managed, lot of talks, insightful discussions, meeting fellow developers and lot more.
Thank you all at Google for inviting me and hosting a wonderful conference!
---
Tags: events development